2nd Annual NE Ohio Trenching and Confined Space Safety Conference
The 2nd Annual NE Ohio Trenching and Confined Space Safety Conference will be held on Wednesday, February 12, 2020. The event will be held at the Avalon Inn & Spa in Warren, OH. This is a joint project between the Youngstown Ohio BWC/Division of Safety and Hygiene, The American Society of Safety Professionals - Northern Ohio Chapter, and local sponsors.
This invitation is being sent for you to consider attending this important training and to send as many of your employees as possible.
The March 31 deadline applies to the following grants:
When: Wednesday February 12, 2020
Where: The Avalon Inn and Spa
9519 E Market St, Warren, OH 44484
Time: 8:00 AM to 4:00 PM
Cost: $35.00 (Continental breakfast and lunch included)
The purpose of this event is to educate people in the construction trades in trench and confined space safety. There has been a large spike in trenching accidents and people are dying in these trenches, and we want to make an impact by providing this one-day training opportunity. We have developed a very strong agenda so we can decrease the amount of fatalities in trenches. The flyer and registration are attached. Click here to register to register and pay on-line: https://nohio.assp.org/events/safety-conference-i-2020/
Download this information and registration flyer (PDF Format)
Deadline for Safety Grant Applications Approaches
Ohio employers seeking grants from the Ohio Bureau of Workers' Compensation to invest in safety measures have until March 31 to apply for funds in this year's fiscal budget. Employers who miss that deadline must wait until July 1, the first day to apply for fiscal 2021 funding under BWC's popular Safety Grants program. "We appreciate Ohio employers who take safety seriously and seek our assistance funding equipment aimed at reducing or eliminating workplace injuries and illnesses," said BWC Administrator/CEO Stephanie McCloud.
Applications for fiscal 2020 funds via U.S. mail must be postmarked no later than March 31. The online application service will close after March 31 and not re-open until July 1, the first day of fiscal year 2021. BWC offers $20 million a year in safety grants. As of Jan. 3, BWC's Division of Safety & Hygiene had approved 616 grant requests. Another 304 were pending.
The March 31 deadline applies to the following grants:
Safety Intervention
Employers Working with Persons with Developmental Disabilities
Firefighter Exposure to Environmental Elements
School Safety and Security
Workplace Wellness
Safety Grants are available to all Ohio state-fund, private and public taxing district employers to purchase equipment to eliminate or reduce workplace hazards. You can find more information on our Safety Grants program on our website.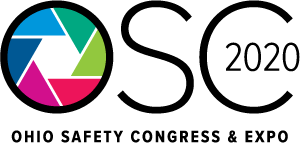 Safety Update Ohio BWC Library
Safety Congress Registration Now Open
Registration is now open for the 2020 Ohio Safety Congress & Expo (OSC 2020)! Visit the OSC 2020 website to view a full listing of course descriptions and to register for the event, which takes place March 11-13 at the Greater Columbus Convention Center. Now in its 90th year, OSC 2020 is the largest and longest-running regional occupational safety, health and workers' compensation conference in the U.S.
Last year, more than 8,000 representatives from Ohio businesses and government attended the event to discover the strategies and tools needed for a healthy, safe, and productive workforce.
Newsletter Content
Download this newsletter to get the complete update from January 2020 for Ohio BWC. News in this newsletter: Safety Innovation Awards Semifinalists Announced, Better You, Better Ohio!® Webinars for Employers, Mast Climbing Inspection Tool, Hard Hat Anniversary, Rise in At-Work Suicides, Regulatory Error Correction, Headphone Use on Construction Sites, Material Handling Injury Prevention, Risks for Vaping Product Associated Lung Injuries, Work Zone Safety, Focus on the Drive Newsletter, Hand and Arm Vibration Tool, and Safe Loading Docks.