Prospective Billing & Safety Seminar For Private Employers
BWC is switching to the industry standard of prospective billing for employer premiums. Have you wondered what it means for your business? Private employers: Come to a FREE seminar near you to get answers and details about prospective billing.
Download this flyer for complete details including times and locations. (PDF Format)
Cell Phone Policies And Safety
It is estimated in 2005 there were 1.3 billion cell phone users worldwide. "Can you hear me now?," the catchphrase used by Verizon, has become part of our culture. Cell phone use has expanded into every activity in our lives, from emergency communication to picking products from a grocery shelf. It sometimes seems people have no idea what to do with a spare moment other than make a cell phone call.
Here are six different PDF files dealing with cell phone policies and safety:
Massive Government Recall Covers 37.8M Kidde Fire Extinguishers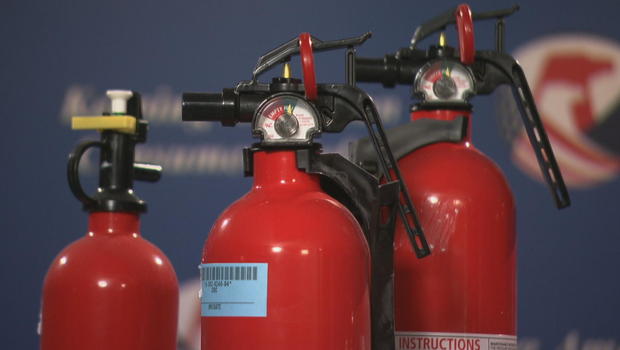 The federal government is launching a massive fire extinguisher recall. It covers nearly 40 million Kidde extinguishers. The Consumer Product Safety Commission says 37.8 million fire extinguishers might not work during an emergency.
Kidde marketing videos emphasize how important their products are in the event of a fire, but the company is now recalling 37.8 million of its fire extinguishers in the United States, reports CBS News correspondent Kris Van Cleave. The recalled extinguishers date back decades and some models have been recalled before for other issues.
Ann Marie Buerkle leads the agency ordering the recall.
"It's a product that a lot of people have in their homes, in their offices," Buerkle said.
The agency claims extinguishers with plastic handles and push button -- or pindicators -- can clog, resulting in a failure to discharge. Nozzles can also pop off with enough force to be a dangerous projectile.
There have been nearly 400 reports of extinguishers malfunctioning resulting in 16 injuries and one death.
Kidde will replace defective extinguishers for free with new ones made with metal parts. The list of recalled models is available on the company's website, as well as the website of the Consumer Product Safety Commission, cpsc.gov.