Trenching Safety Day
April 3 - 8:00 am to 4:00 pm at the The Avalon Inn and Spa
Due to the staggering increase of trenching accidents we have decided to conduct a Construction Safety Day with a focus on Trenching and Excavation that will be held on Wednesday April 3, 2019. The event will be held at the Avalon Inn & Spa in Warren, OH. This is a joint project between the Youngstown BWC/Division of Safety and Hygiene, The American Society of Safety Professionals; Northern Ohio Chapter, and local sponsors.
The purpose of this event is to educate people in the construction trades in trench safety. There has been a large spike in trenching accidents and people are dying in these trenches and we want to make an impact by providing this one-day training opportunity. We are developed a very strong training agenda so we can decrease the amount of fatalities in trenches, please review the attached flyer. Please share this information with anyone that would benefit from attending this awesome opportunity.
Safety council members can earn a safety council external meeting credit by attending this training. They need to provide their home safety council with a certificate of attendance.
When: April 3, 2019
Where: The Avalon Inn and Spa,
9519 E Market St, Warren, OH 44484
Time: 8:00 AM to 4:00 PM
Cost: $35.00 (Continental breakfast and lunch included)
Register and pay online:
https://nohio.assp.org/events/spring-pdc/
OSHA Safe + Sound Campaign 2018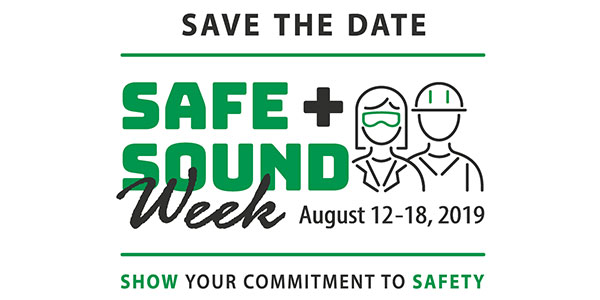 Thousands of Ohio employers completed activities in this nationwide campaign to build their safety and health program during Safe + Sound 2018. Try one of the top three most downloaded activity suggestions in your workplace today!
The Safe + Sound Campaign is organized by the Occupational Safety and Health Administration, American Industrial Hygiene Association, American Society of Safety Professionals, The Center for Construction Research and Training, National Institute for Occupational Safety and Health, National Safety Council, and Voluntary Protection Programs Participants' Association. For more information and additional resources to help you establish or improve your safety and health program, visit the Safe + Sound Campaign website.
Move Up To Better Health
Introducing a free health and wellness program for Ohio's small businesses
Promoting better health for employees is a key to success for any business. And Better You, Better Ohio! is helping to make it happen. The Ohio Bureau of Workers' Compensation has launched a free new health program along with ActiveHealth® Management. Employees will have access to these helpful resources: Quick and easy health assessment, Biometric screening, Digital lifestyle and condition coaching, and Mobile app.
Ready to make your small business even healthier? To learn more about this free program download the listed flyer.
Download this flyer for complete registration details. (PDF Format)