2017 Award Luncheon Photo Gallery
A photo gallery has been uploaded from the Award Luncheon held on April 21 at the Villa Croatia Event Venue & Party Center. You can see the gallery at this link.
Brad Hurtig -
Find A Way
The Lake County Safety Council presents Brad Hurtig on May 19, 8am at Lakeland Community College for a free program. Brad delivers a powerful message about overcoming obstacles and adversity that applies to all employers, employees and students. Themes like attitude, character, choices, and leadership resound in the context of his life-changing story!
Attendance at this presentation AND BOTH of the following seminars qualifies for safety council rebate program external training credit (and) group rating two-hour training credit with submission of a certificate of attendance to a sponsoring organization. For all the details read the attached flyer. You can register for this event on our website at this link.
Fake Crosby Shackles Alert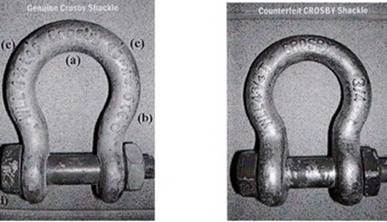 Crosby and Van Best have long been a recognized names for quality and easy tractability, it is becoming more evident these days that the Chinese market is flooding these cheap copies around the globe. I have come across shackles with a "CE" stamped on them, upon further investigation it became apparent the shackles were of Chinese origin from a company using the name "China Engineering" hence the "CE" mark on it.
Counterfeit Crosby Shackles have been found at locations in Europe and also in West Africa. These shackles are NOT up to required standards and it is mandatory that they be immediately removed from service. The counterfeit shackles can fail at as low as just 40% of their stated rating, causing a potentially catastrophic outcome. The most obvious difference is that the counterfeit shackle has the word "CROSBY" all in capital (Upper Case) lettering. The genuine shackle only has the "C" of "Crosby" capitalized. The points to look for in deciding whether you have a Crosby shackle or a copy are: &bul; On the face, (a) the Crosby Name should be embossed as per the Crosby Logo, (b) the CE mark should appear along with the (c) markings of the 45 degree angles &bul; On the rear of the shackle should appear 2 different groupings of IDs (3 for Belgium manufacture) providing full traceability of the shackle. &bul; The pin should also be stamped (d) on the head with a tractable ID number.